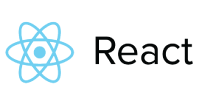 As noted in an earlier post, there's a ton of material to learn about JavaScript, and my approach to mastering it is first to rely on experienced, talented developers to point me in the right direction. In learning React.js, I quickly encountered references to "awesome React" as a resource, and I concur, it is awesome — 700 links to React resources, divided into 72 categories.
However, while it is massive and comprehensive it is also an unvariegated listing. So as I have begun to explore what each link offers, I am adding here some contextual information to the ur-source.
That means this list — like two previous ones I've posted on JavaScript and es6 (aka es2015) — is a re-presentation of someone else's link list. The "awesome React" list was compiled by the relentless Nick Raienko, who continues to update it.
I have not altered the original list (each link of which is usually characterized only by a single short phrase) except to provide visuals for many links, quote a self-description or summary from the site itself, identify authors when possible and cite some of the GitHub or npm metadata. Any non-quoted description that I myself have added appears in italics and/or within square brackets. (Btw, I'm doing this gradually, so for now only a few of those 700 links are fleshed out.)
Awesome React
A collection of awesome things regarding React ecosystem.
Categories that the listings are arranged in:
---
React
JavaScript Library for building User Interfaces
React General Resources
Lots of people use React as the V in MVC. Since React makes no assumptions about the rest of your technology stack, it's easy to try it out on a small feature in an existing project. React abstracts away the DOM from you, giving a simpler programming model and better performance.
474 contributors star: 25,797 fork: 3,796
React Community
#reactjs channel on Freenode IRC Server
React Online Playground
React Tutorials
React General Tutorials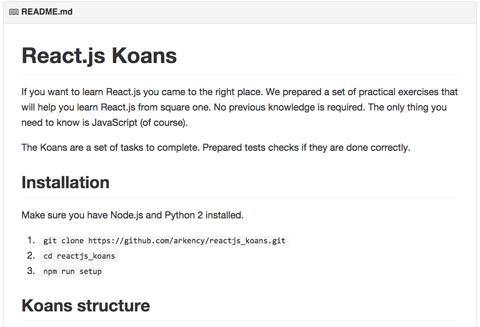 Practical exercises that will help you learn React.js from square one
21 contributors star: 2,111 fork: 112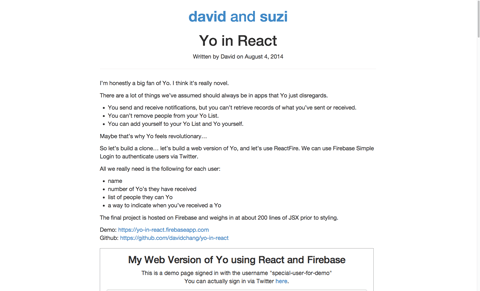 "So let's build a clone [of Yo]… let's build a web version of Yo, and let's use ReactFire. We can use Firebase Simple Login to authenticate users via Twitter.
"The final project is hosted on Firebase and weighs in at about 200 lines of JSX prior to styling."
By David Chang. Published at 'david and suzi' on August 4, 2014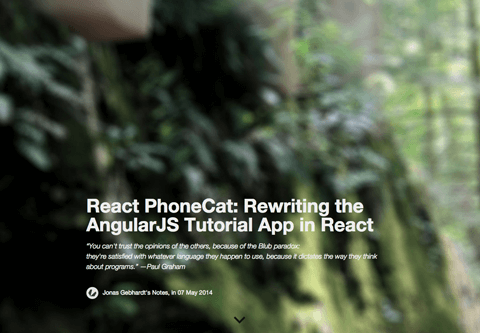 "[H]ere is my … walkthrough of rewriting Angular PhoneCat in React. …
"[This] React version contains 40% more lines of code [than the Angular original]. I'm certain that both the Angular and React versions could have been written more or less succinctly, but succinctness is a non-goal.
"Here's a rapidly brainstormed list of possibly superior criteria for JS framework selection:
Learning curve: How high? How steep?
Productivity: Both initially and over time
Pre-existing developer familiarity with underlying concepts
Ease of integration with tools and legacy systems
Performance considerations
Re-usability of client code
Does it encourage high cohesion & low coupling?
Testability: Unit, Behavioral, Integration, Visual regressions testing
Server rendering capabilities
Maintenance burden
API stability"
By Jonas Gebhardt. Published on 07 May 2014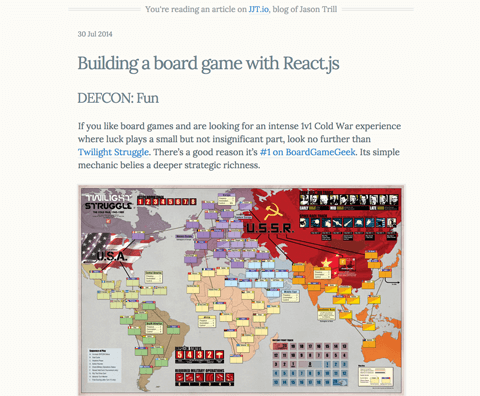 "I started thinking about how to optimize the board layout [of Twilight Stuggle] for a smaller screen, which then quickly spiralled out of control into building a playable virtual board because hey, I'm that kind of nerd.
"The tool of choice for such an undertaking? React, with a router and other libs of sundry to glue everything together."
By Jason Trill. Posted on July 30, 2014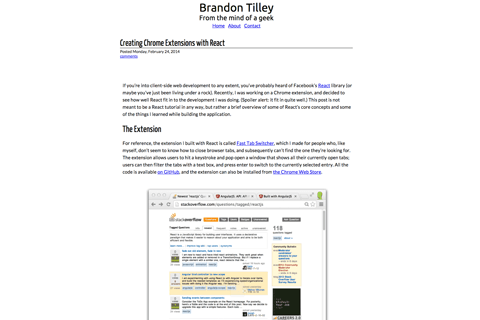 "Recently, I was working on a Chrome extension, and decided to see how well React fit in to the development I was doing. (Spoiler alert: it fit in quite well.) This post is not meant to be a React tutorial in any way, but rather a brief overview of some of React's core concepts and some of the things I learned while building the application."
By Brandon Tilley. Posted on February 24, 2014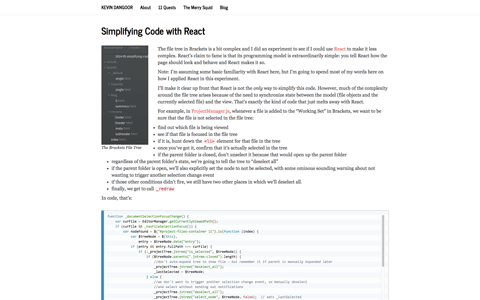 "The file tree in Brackets is a bit complex and I did an experiment to see if I could use React to make it less complex. React's claim to fame is that its programming model is extraordinarily simple: you tell React how the page should look and behave and React makes it so.
"Note: I'm assuming some basic familiarity with React here, but I'm going to spend most of my words here on how I applied React in this experiment.
"I'll make it clear up front that React is not the only way to simplify this code. However, much of the complexity around the file tree arises because of the need to synchronize state between the model (file objects and the currently selected file) and the view. That's exactly the kind of code that just melts away with React."
By Kevin Dangoor. Posted May 12, 2014
[Note: A follow-up to this post, The New React-based Brackets Project Tree, was published on September 2, 2014.]
Isomorphic Apps
JSX
Building robust web apps with React
Comprehensive Guide to Building Apps with React
Scotch.io React tutorials series
React styling
React Charts Tutorials
React and Backbone
React and Angular
React and Bootstrap
React and ClojureScript
React and CoffeeScript
React and Haskell
React and Socket.IO
Server-Client with React
Server Side rendering
Compiling React Tutorials
Testing React Tutorials
Debugging React
Authentication and Authorization
File Uploads
Approach Explanation
React Internals
---
Flux
Flux Tutorials
---
React Native
Framework for building native apps using React
React Native General Resources
React Native Community
#reactnative channel on Freenode IRC Channel
React Native Tutorials
React Native Gestures
---
Tools
React Native
Flux Implementations
Mobile
Boilerplates
Components
[react-autoupdate-time — Renders a
[react-time — Component for React to render relative and/or formatted dates into
[react-datalist — A
Libraries
Integration
Routing
Forms
Autocomplete
Unit Testing
Documentation Tools
Graphics
[react-canvas — High performance
Model Libraries
Data Managing
Development Environment
Generating
Compiling
Platforms
JSX Alternatives
Template Engines
Maps
Charts
Service Workers
Dashboards
---
GraphQL
GraphQL Spec
GraphQL Tutorials
GraphQL Implementations
---
Videos
Video from Confs
Video from React.js Conf 2015
Video from react-europe 2015
Video Tutorials
Books
---
Demos
---
Apps
---
Contribution
Your contributions and suggestions are heartily♡ welcome. (✿◠‿◠)
---
License
---
last updated: August 2, 2015 (partial)
Metadata last updated on August 2 2015